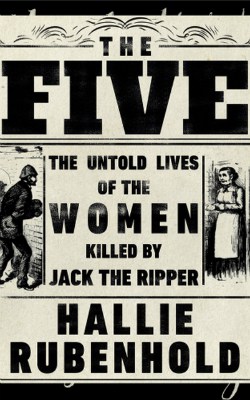 Years ago I went on a "Jack the Ripper" walking tour when I visited London without giving it much thought. The murders felt like fiction, in the same realm as Sherlock Holmes or Dr Jekyll and Mr Hyde. Even visiting the spots where the bodies were found didn't make an impact. I've never been a "Ripperologist" but as someone interested in Victorian history it's been hard to avoid the story and endless theories about the case.
Over time I've found myself actively avoiding the subject though. The way the story is told seems to center the perpetrator as the star of the show, endlessly fascinating and worthy of study. At its worst the literature seems little more than a way to vicariously replay the victimization of women over and over again. I've run into the same problem with the whole "True Crime" genre – I want the catharsis of a solved case, and the glimpses into people's hidden lives, but I don't think murderers are nearly as interesting as they'd like us to believe.
That's why I was so excited when I saw "The Five" coming up for publication. The book tells the life stories of the canonical victims of the Ripper, up to but not including their deaths. I was already a fan of the author from the wonderful Harlots TV show, and here she has done another amazing job bringing strong, complex, ignored people to life. While she's at it, she also makes a strong case that the prejudices about the women we've inherited from the original investigators have distorted our understanding of the case and blinded us to likely solutions. If most of the women weren't prostitutes, as she argues convincingly, and if they were attacked while asleep, then many of the old narratives fall apart. It's a great example of how highlighting the stories of people who have traditionally been ignored isn't just a worthy pursuit, it also adds to our overall understanding of the past.
Even ignoring the wider lessons, this is a beautifully-written set of stories that I found hard to put down, and I had to ration myself to one a night to avoid burning through it all too fast. With deep research, Rubenhold draws sketches of girls growing into women, living full lives as daughters, mothers, friends, and workers, despite our knowledge of the shadow of Whitechapel looming in their future. They all suffer blows that end up pushing them into poverty, but what she drives home is that they were far more than just their ending, and what a loss their deaths were to themselves and many others. Alcoholism, poverty, and rough sleeping are common factors, but the path to them is wildly different in each story. It even made me rethink some of my expectations of unbending Victorian morality, with most of the women at least temporarily benefiting from pragmatic attempts to help them from well-wishers, even after their notional "fall".
What does shine through most strongly though is how imperfect the safety net was, especially for poor women. There were very few second chances. One of the reasons I've ended up reading so much Victorian history is in an attempt to understand my adopted America, as the only comparable era I can find with such fabulous energy and grinding poverty so close together. It has made me wonder about all the stories I don't know of people just a few hundred meters from me right now who are living on the same kind of knife edge, and might end up dying in poverty. I hope it's given me a little more moral imagination to understand the struggles that those around me are facing, and motivation to find ways to help. I do know I won't be able to visit London again without thinking of Polly, Annie, Elizabeth, Kate, and Mary Jane.